Rene Lunshof is a Dutch Freelance Cameraman who is specialized in ENG camera work. He does a lot of work for news networks like RTL News, EditieNL and FOX Sports, which are broadcasting nationally in the Netherlands.
"For me it's a never ending quest… finding the ideal bag. And the everlasting questions remains…what gear do you need to bring with you?"
"What ever item you are bringing, it needs to be safe. Whether you are traveling by car, bike or airplane, you'd like it to be sturdy and compact and it should not shake or rattle when you move around with it. A regular backpack, a hardcase (Pelicase), I've tried it all. Never to great dissapointment, but also not with great conviction.
camRade offered me the possibility to test their Travelmate 360. The 360 (that's what I'll call it from now on) has 4 wheels, so you can either push or pull it. Because of these 4 wheels it's nice and stable and you can also easily detach the wheels from the bag, if you prefer.
The retractable handle we have all seen before on our trolleys when going on holiday. It works how you'd expect it to work. So far not much new under the sun I can hear you think, but wait till you open up the bag!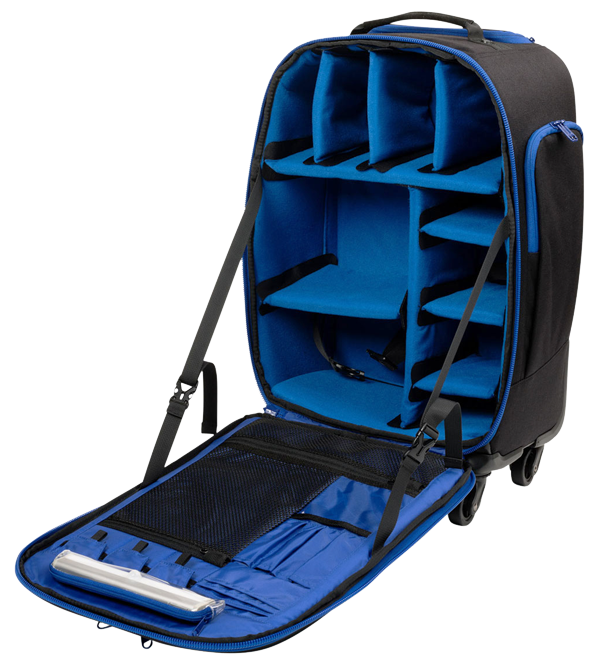 The dividers have hook and loop fasteners on two sides (up and down) and this really helps strong attachment to the bag in a big way. The dividers are like shelves in a closet/cabinet, and that is the overall feel of the 360 too. When you open it up, it's like looking into a closet/cabinet full of gear, neatly organized. Everything safely and securely in place.
The hook and loop fasteners of the dividers are really strong and plentiful (9) dividers are supplied in different sizes to allow you to get everything organized just the way you like it.
In the lid of the 360 there is space for a laptop or tablet. And on the inside of the lid there are several pockets for pens, businesscards, memory cards, your passport and what not. Great effort has been made to find a purpose for every nook and cranny of this bag. This bag can carry your camera (even a PXW-FS7 will fit into it when you dissasemble it) but that is not what I used it for. For me it's perfect for storing accessories such as my transmitters, batteries, chargers, laptop etc.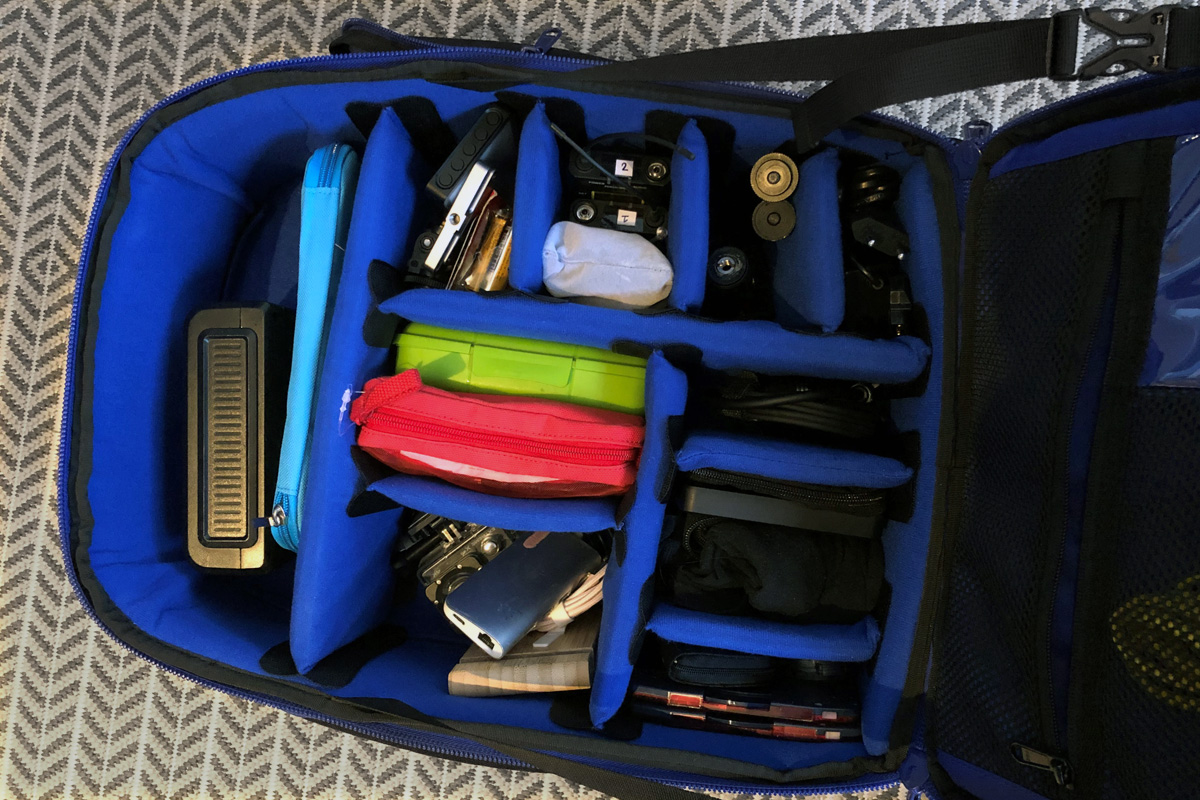 When you do use it to transport your camera, as cinch strap is added to the main compartment to secure your camera in place, just for that litte extra safety.
Nice gimmick is the LED light in the lid. This light reacts to movement and light, so when you open up the bag, the light pops on and you can attach it anywere in the bag where the velour fabric is used because it has hook and loop fasteners too. Is it essential? No. Is it fun? It certainly is!
To get to the conclusion; Do you travel a lot with public transportation or airplanes? Or do you just want to transport your gear super safe and on wheels? In that case this is really a good choice. It's good value for money, a mini cupboard on wheels!"
Rene's favourite gear list:
Sony PDW-F800 camera
Blackmagic URSA Broadcast camera
Canon Broadcast lens (standard and wide angle)
Dejero EnGo
Sennheiser 3G wireless microphones and receivers
Blackmagic Video Assist
Folux 160Wh batteries
Camgear Elite 15 CF MS Tripod System
camRade wetSuit 2
camRade camSuit PDW-700/800
camRade camStrap Standard
camRade tripodBag Traveler
camRade travelMate 360