Stuart Howells is an English Freelance Camerman who specialises in ENG camera work. He does a lot of camera operating for BBC News as well as the APP Sup World Tour.
Since getting the travelMate from CamRade I had big travel plans to go to Maldives, Cape Verde, Hamburg and France. I was about to board a plane when Lockdown hit the whole world and life as we knew it came crashing to a hault.I decided not to fly and a few days later the UK closed its borders.
Quite often when travelling with lots of kit, as a videographer you always travel with lots of kit bag, you have seperate bags for tripods, audio equipment, cameras and lenses, but with the travelMate Large, it makes things easier to get a lot of gear into one bag.
You can throw it over your shoulder, yes with a lot of kit in it's heavy, but this makes it ideal as my go-to camera bag. I have used it in a farmers field - where I couldn't use the wheels and within seconds was able to use the carry straps and put the bag on my back.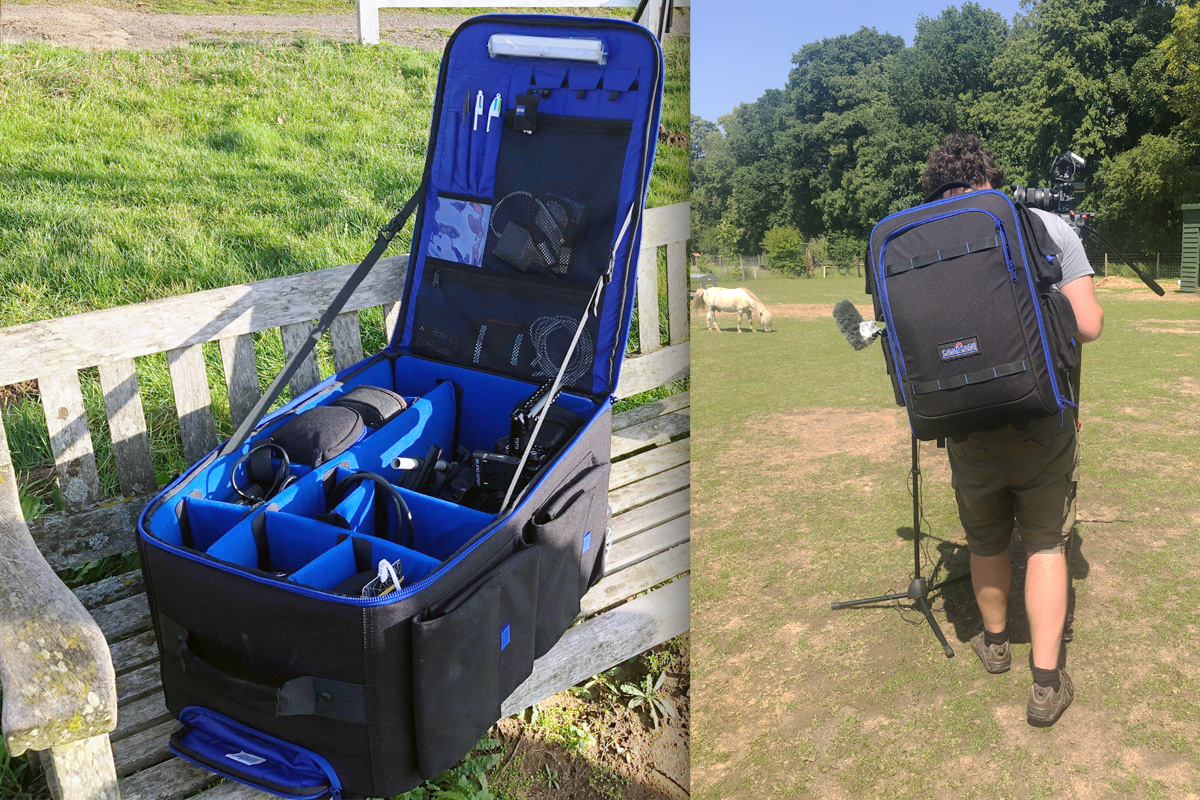 I find the large side pockets so useful to put cables or spare batteries in, the things you need quickly without needing to open up the bag. As my job involves various different locations and shoots I have to pack different things almost every job I go on.
This bag allows me to minimise that and basically keep everything all the time which is nice to not have to get rid of things for those 'just in case moments'. And those moments in the dark when you are scrambling around for a light to find a memory card or lens filter...forget that. The built in moveable light comes on without needing to press any button and just works. It's amazing. As soon as you open the bag in a dark room the light is there and you can find what you're looking for. It saves time and as I work along it really, really makes a difference to my shoot time.
Although I haven't been able to get on a plane yet with this bag...working at home it allows me to have everything handy in one place and the pop out handle and wheels make it a dream to use on the pavement and walking no matter how heavy my gear is. The bag is tough and durable and really holds up well when used as a professional camera bag!
Stuart's Favourite Gear list:
Canon EOS C300
Sony PMW-500
Blackmagic URSA Broadcast
Canon Various Lenses
Sony Wireless Mics
Sachtler Ace tripod
camRade run&gunBag Cinema
camRade wetSuit EOS C300/500
camRade travelMate Large
camRade wetSuit Blackmagic URSA Broadcast