camRade as Video Village Outside Broadcast Partner
When we at Video Village started planning our broadcast coverage of the 2019 NASCAR Whelen Euro Series, one of the things we knew we had to prioritize was how to keep our camera equipment safe and dry in changing weather conditions across Europe.
We've used some camRade products in the past and so our enquiry to them was based on reputation. With a high benchmark already set, we were delighted to find out their attention to detail didn't just end at designing some really lovely products. It was the fast and personal response to our enquiry and attention to detail in making sure that as a customer, we got exactly what we were looking for in a timely manner. This reinforced our confidence in choosing products by camRade which is why we invested in their Outside Broadcast wetsuits for all cameras.
"Their attention to details didn't just end at designing some really lovely products."
Traditionally we had used a variety of broadcast ENG shoulder mount camcorders for delivering motorsport coverage, but with positive test results from the Blackmagic Design URSA Broadcast cameras, we opted to go for an entire BMD workflow. Our set up and configuration of the cameras looked smart and professional, and with the addition of some matte boxes and flags to our cameras to reduce lens flare and improve contrast, these were designed two-fold to help shield the lenses from inclement weather or even the circuit sprinklers.

We were really lucky at the first round in Valencia with 27 degree heat, but it's fair to say we were very glad we had invested in the camRade wetsuit's when we got to Franciacorta in Italy. Mid Saturday afternoon the sky blackened, and we found ourselves stuck in a tornado with crew and cameras out in remote locations.
Experience helped us get the crew back safely, and thanks to the brilliant design of the camRade Wetsuit OB camera covers, the operators were able to de-rig whilst keeping the equipment dry. We quickly realised that while filming for long days with the cameras set up in position, in hot or humid weather, it was important that the covers were breathable so not to trap moisture and prevent the cameras from overheating.
As well as all of these features being crucial to maintaining operation of the kit over long days in demanding conditions, we also felt it important to maintain a smart and classy appearance of the cameras that wouldn't diminish by covering them up to protect them from harsh environments.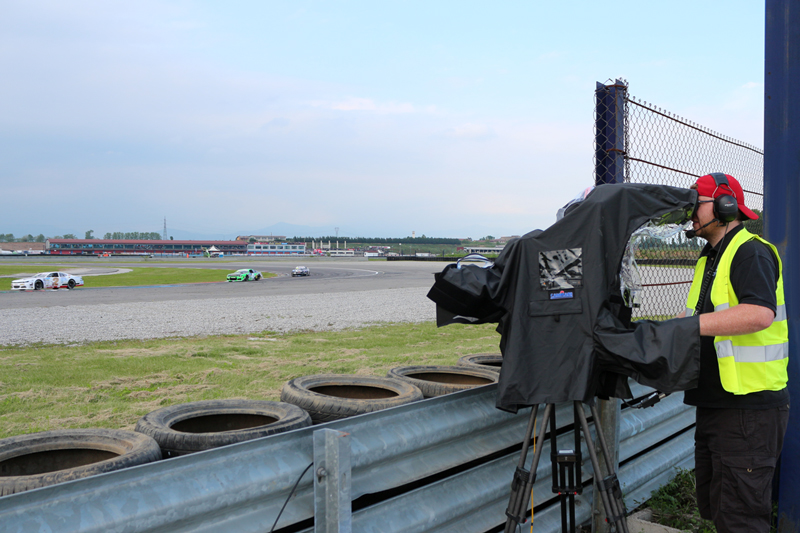 We think these covers are a must for any OB, but don't just take our word for it, we asked our camera operators for feedback on what the covers were like to use, Keith Jacobsen told us:
"I've been doing OB's for more years than I can remember and have used everything from tarpaulin to bin bags to cover cameras... but this camRade cover was brilliant. Specific for the camera and designed with the forethought that other accessories would be mounted to the camera. Easy and quick to get on and off the camera with access points where you need them. Absolutely brilliant..."
It looks like we might be needing to deploy our camRade wetsuits again in the future, but at least we know that whatever the weather, our cameras will be well protected. It's just a shame they don't make any rain covers to fit our camera operators.