DoP Joas Burggraaf has been working passionately on numerous feature films, commercials and corporate movies for more than 15 years now. But he did not grow up knowing he wanted to become a cameraman.
During his study of Multimedia Design, he did an internship at a TV program for 1 year. One day, they were short on cameramen and asked him to give it a try. In the studio, he learned how to handle a camera, the tricks of the trade of live TV and was even allowed to participate in rehearsals with Dutch director David Grifhorst.
After his internship, without a doubt in his mind, he applied to Dutchview (now NEP) as an 18-year-old and was accepted as a freelance cameraman. Joas also discovered that there was such a thing as "making movies". This became his dream.
Ever since the early days, Joas knew he wanted to buy his own equipment. This way he could rent it out together with his services as a cameraman and use the earnings to invest in new equipment. Now, many years later, he has accumulated a very nice collection. He owns an ARRI AMIRA and a Blackmagic Pocket Cinema Camera 4K and he loves working with his Steadicam and DJI Ronin.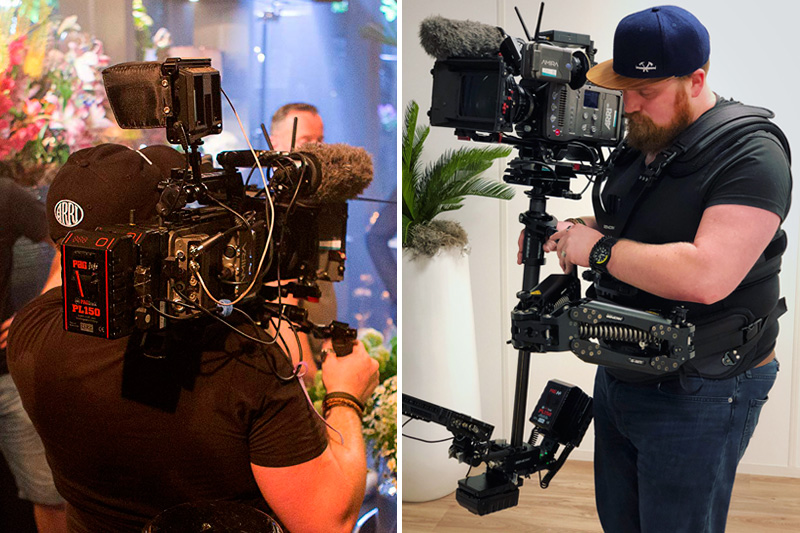 To make sure this high value equipment is well protected, he uses various camRade bags. Two camBags HD Large bags are part of his standard gear and are ideal for storing his ARRI AMIRA, fully assembled. It's very important to have all his equipment ready for use as quickly as possible. Now all he has to do is click his PAGlink batteries on the camera and start shooting.
Over time, Joas gradually got into the business of cinematography and feature films. He is currently working as a DoP on a new feature film called "Jacob". This is an exciting true story that takes place during WWII in Maassluis, the Netherlands. Working with a complete film crew, a trailer has already been shot to give sponsors an idea of the potential of the feature film.
Joas has developed a specific cinematic style with light and movement and likes to integrate his in as many projects as possible. He has a clear vision of what a picture should look like and prefers to execute all the shots himself. To be able to do so, he has mastered the skills of filming with a Steadicam, different cranes, JIBs, rails, drones etc.
When having such a clear view of style, imagery and movement, execution with precision is key. Sometimes it's just a feeling that something should look a certain way and it's difficult to pass that on to an operator. In addition, Joas just loves being close to the actors and actresses so he feels the atmosphere better and he can help them to create the perfect picture.
Check out www.oneshot.tv for an overview of films, projects and other information.
Joas' Gear list:

ARRI AMIRA
Zeiss CP.2 Prime Cine Lenses
Blackmagic Pocket Cinema Camera 4K
Steadicam (with TVlogic F-7H monitor)
Kessler Shuttle Dolly
Miller Tripod with Sachtler FSB-10 Fluid Head
Cine-slider (Traveller)
Wireless Remote Follow Focus
DJI Ronin Extended
Libec JIB
Libec Rails
Tracksystem (Key West)
Easy Rig Vario 5 & Flowcine Serene
Atomos Sumo M
Teradek Bolt 1000 Wireless Video
PAGlink Batteries
camRade audioMate Compact
camRade camBag HD Large (Grey and Black)
camRade tripodBag Traveler
camRade wetSuit ARRI AMIRA