Rene Lunshof is a Dutch Freelance Cameraman who is specialized in ENG camera work. He does a lot of work for news networks like RTL News, EditieNL and FOX Sports, which are broadcasting nationally in the Netherlands. Therefore his days never look the same and he's always on the move.
'When you're lucky enough to travel for your job on a regular basis, you'll probably recognize this problem. Which gear should I bring with me, and how? The logistics of it all is the biggest pain in our line of work, at least that's my opinion!'
'Best case scenario is that you carry on most of your gear onto the airplane as cabin luggage. That way you have it right by your side and you can keep an eye on it to make sure nothing happens to it.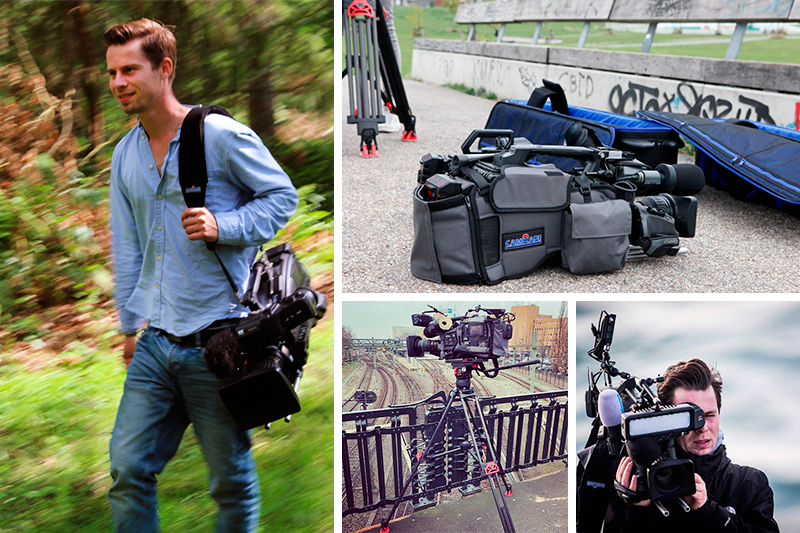 My rule is that I have to be able to shoot at least 2 days with the gear I have with me as carry on. So plenty of batteries, memory cards, a travel charger, my laptop and a variety of cables (which I hardly ever need to use by the way) are always with me. In this case, when you should lose one of your suitcases, or one gets left behind on an airport, at least you can start your job.
But then there's your tripod…
You're never able to bring it with you into the airplane cabin, or at least that is the case for the tripods I normally use. There aren't that many ways to transport your tripod. You can use a case or a bag, which are available in a wide variety.
The main importance during transportation and traveling is the protection of your tripod. You can never expect others to handle the package with the same care you would. I use the camRade tripodBag Traveler that came with my tripod (Camgear Elite 15). The entire bag is padded and reinforced so it can take a few hits and on the inside there are plenty of cushions to protect the (delicate) fluid head.
A number of pouches with zippers are inside the bag, so you can even pack an extra shirt or socks. What I personally really like, are the wheels underneath the bag. Together with the handle on top of the bag it's easy to move around on an airport or in a city centre for example. This bag does the job, it's protecting my tripod during travels and makes it easy to move around, and that's what a good bag needs to offer!'
Rene's favourite gear list:
Sony PDW-F800 camera
Blackmagic URSA Broadcast camera
Canon Broadcast lens (standard and wide angle)
Dejero EnGo
Sennheiser 3G wireless microphones and receivers
Blackmagic Video Assist
Folux 160Wh batteries
Camgear Elite 15 CF MS Tripod System
camRade wetSuit 2
camRade camSuit PDW-700/800
camRade camStrap Standard
camRade tripodBag Traveler