Always looking at new cameras, trying to meet the expectations of professional videographers and cinematographers, developing new 'camRades'. When a hot new camera enters the scene, we instantly discuss whether we should create a tailored cover for it.
With this camera there was no doubt, we need to create a wetSuit for the Blackmagic Pocket Cinema Camera 4K!
The new workhorse from Blackmagic Design is the Pocket Cinema Camera 4K; Small in design, but great in possibilities. This camera was rumored to already have 300.000 units in pre-order on IBC 2018.
Offered at a competitive price and equipped with a comprehensive feature set, a 5 inch touch screen, external SSD recording capabilities and it shoots sharp 4K raw footage. The polycarbonate/ fiberglass body feels well balanced and solid in the hand, and even with a top handle it is lightweight and easy to control. Use it for run&gun-style shooting or combine it with a cage and create a stable set-up with various accessories.
We started the design process by looking into how this great new camera from Blackmagic Design is most likely to be used. Thanks to innovative companies like SHAPE, Vocas & 8Sinn most Pocket owners are using the camera rigged or caged. While testing and designing we used the highly recommended 8Sinn BM Pocket Cinema Camera 4K Cage with the Top Handle Basic.
The aim for product development of a camRade wetSuit is to make a water-resistant cover which is easy to use, covers all essential or often used accessories, enables access to all main controls and allows good view of all important displays.
Based on the specifications of the camera we created a first prototype. The best way to test the proto, is having one or more Pocket users work the cover like they would on an average day in the field. Based on their feedback we tweaked the cover to get a snugger fit, and have the openings designed in the most practical manner.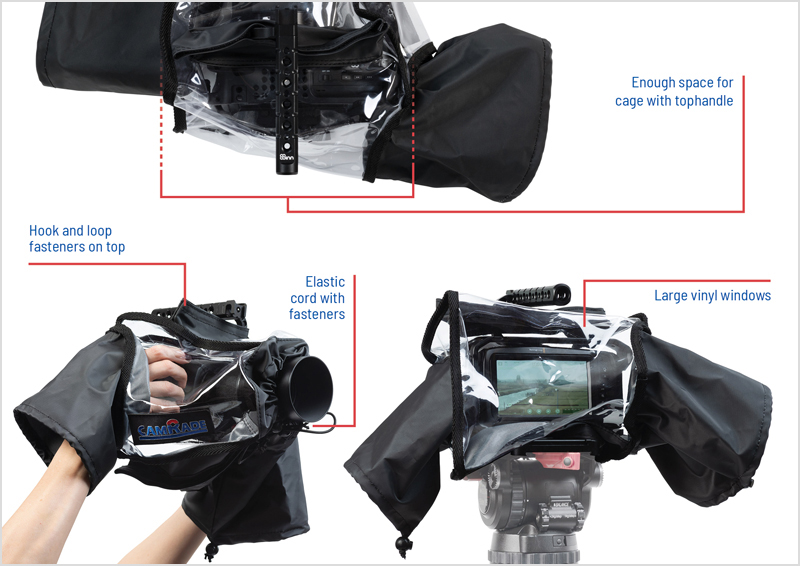 In short, this resulted into:
• Large vinyl windows on all 4 sides
• Openings with cuffs on the sides for your hands to have good access to controls
• Opening on top with hook and loop fasteners to create access for possible accessories
• Opening on bottom with hook and loop fasteners to create access for accessories and/or stands or tripods
• Elastic cord with fasteners to close around the lens
• The wetSuit is spacious enough to also cover a cage with top handle
Check out the finalized camRade wetSuit Blackmagic Pocket Cinema now!


Recommendations
Try one or more of the following accessories for your BMPCC 4K:
- 8Sinn BMPCC Cage
- AVtec LedPAD X52
- camRade camBag HD Small
- camRade run&gunBackpack Medium
- Camgear MARK 4 MS AL
- camRade wetsuit Blackmagic Pocket Cinema

Popular cages for this camera:
- 8Sinn BMPCC Cage and Top Handle Scorpio
- Vocas BMPCC 4K Camera Cage Kit
- SHAPE BM4KIT Cage