James Edwards Grant Stevens (JEGS) bought his first camera at the age of 11 and has been working as a freelance filmmaker since 2012. Based in Gloucester, JEGS Media produces high-quality professional media specializing in wildlife and conservation.
I spend a lot of my time filming wildlife throughout the UK, mostly within the Cairngorms National Park in Scotland. Dubbed as being the wildest place in the UK, the Cairngorms has some of the wildest weathers too. The phrase 'four seasons in a day' is an accurate way of describing the weather here. One moment it's perfect sun, the next it's raining, or even snowing! For such changeable conditions, I have to be prepared. I film using a Sony FS7 and variety of lenses. It's a large camera which isn't so easy to put under your coat to shield from the rain, so the camRade wetsuit was the ideal solution!
The design is very easy to put on and take off which is ideal for the sudden changes in weather. It also ensures that I can maintain full use of the buttons and functions whilst the cover is on. The material is thick and very good quality, making sure that my camera stays perfectly dry. I have spent many days filming coastal wildlife when the weather is poor. The mixture of rain, wind and sea spray would undoubtably cause issues for my camera had it not have been covered by the wetsuit.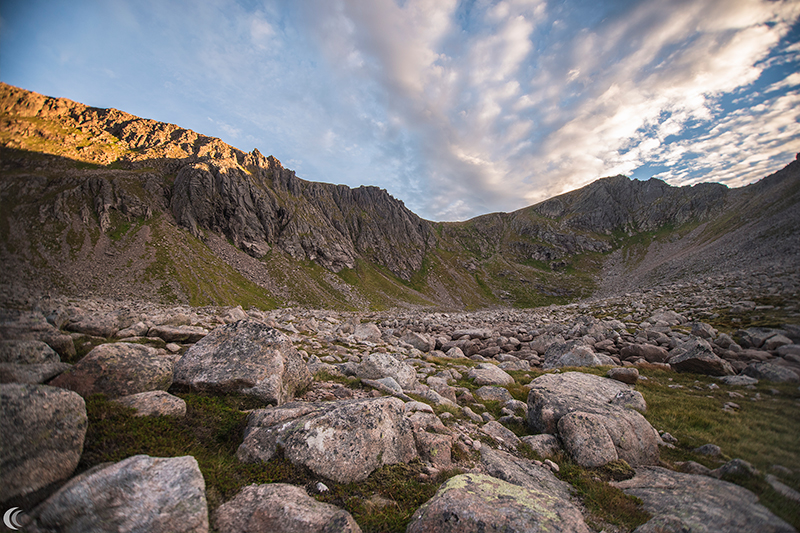 Wildlife in the Cairngorms can be hard to access. The mountains are very unforgiving and the wildlife hard to find. Ptarmigan and dotterel blend into the rocky ground whilst mountain hare run away before you even notice they were there. To look at a first glance you'd think the mountains are baron, but waiting for some movement, or a call, you will soon discover there is life to be filmed. Ptarmigan are remarkable birds, incredibly well adapted to mountain life. Their plumage changes throughout the year to blend into the granite rocks in summer and the snow in winter. Their bodies are very well insulated from the cold and wet, something I wish I was when in unfavourable conditions. The camRade wetsuit not only helps keep the camera dry, but also warm, shielded from the cold wind. This means the battery lasts longer and I can continue filming the amazing wildlife of the Cairngorms.
In contrast, the rainforest of Sumatra are full of life. I went there to film an independent documentary on conservation. The rainforests are among the richest and most biodiverse in the world. A place where tigers roam and elephants parade. Some of the rarest, and most endangered species live here with many being found nowhere else in the world. The animals can be vibrant in appearance, but dangerous in behaviour. It is truly a unique place full of wonder. However, there are many challenges and issues facing the wildlife here. Poaching has devastated tiger populations among others, and deforestation has decimated much of the rainforest, as well as many other issues such as pet trades and climate change. At times it can seem as though all hope is lost for the island.
However, I didn't want to believe it. Speaking with a young conservationist Pungky Nanda Pratama who lives and works on the island he told me of lots of conservation activities that are being carried out, things which I had simply never heard of. So many amazing projects, many of which he set up himself, and other projects working alongside conservation agencies and NGO's. He told me of education programs which he uses to teach environmental studies in rural areas, sanctuaries for elephants who would otherwise be killed, orangutan conservation which teaches young orangutan how to live in the wild. So much conservation that is going on, but none of it is being given media attention. I wanted to change this, so in June 2018, I went to Sumatra to document what's truly happening.
Over a month in Sumatra, proved to be a real challenge but the camRade wetsuit kept my camera very dry. Despite it being the 'dry season', sudden downpours of rain would occur without warning. Quickly waterproofing my camera wasn't a problem with the wetsuit. The rain may have been intermittent, but humidity was constant and so I needed to take the wetsuit off and keep my camera in a dry case with silica gels to keep it as dry as possible. Humidity has been known to destroy cameras, luckily my kit was kept dry throughout thanks to the wetsuit in the day, and dry case and silica gels overnight.
From Scotland to Sumatra, the wetsuit worked perfectly. Having expensive camera equipment, it's important for me to trust the kit I use. Keeping my camera waterproof is paramount and I can honestly say I trust the camRade wetsuit as it works incredibly well in all environments.
James' favourite gear list:
Sony PXW-FS7 4K camera with RODE NTG4+ Microphone and 24-240 mm lens - A versatile camera with lots of settings from slow-motion, 4K and cache recording. I use this for filming most wildlife and with Metabones Nikon adapter I can use a wide range of other lenses.
camRade wetSuit PXW-FS7
Nikon D810 - This has been my go-to camera for both photography and film for many years. It's robust and very high quality for a DSLR. Filming at speeds up to 60fps, it allows a certain amount of slow-motion, ideal for wildlife.
Nikon 50mm Prime
Tamron 150-600mm telephoto lens
DJI Phantom 4 Pro
Manfrotto 546B tripod with MVH502A fluid head
Vanguard Alta Sky 53 Backpack
Macbook Pro with Adobe Premiere Pro